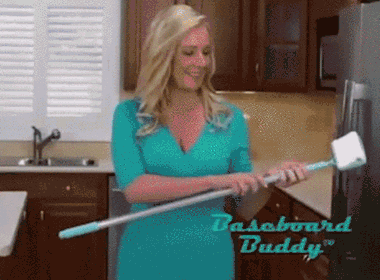 Product Description
animationBaseboard Buddy is the newest and most efficient way to avoid the backbreaking, tedious work of cleaning baseboards on hands and knees.
The extender rod allows for the easy gripping and the ability to stand the duster upright.
Baseboard Buddy's brilliant Flex Head design allows you to dust with 360-degree angle Swivel Action without any strenuous exercise and movements in awkward positions that can result in back pain and sore limbs.
Ideal for the home or office, this unique microfiber duster is suitable for dusting other hard surfaces in addition to baseboards such as chair rails and crown molding.
Clean your baseboards the fast and easy way with Baseboard Buddy!
Includes 2 Pads.
---