BattleVisor™ Blocks The Harsh, Glaring Sun And Keeps You Safe On The Road – Without Blocking Your Vision
All The Reasons You Need To Get BattleVisor™
When the sun is blinding, putting down your visor only blocks your view. That can be dangerous. Introducing BattleVisor™ by Atomic Beam®. Sun protection for perfect vision is critical when you're driving your vehicle.
BattleVisor™ blocks the harsh, glaring sun and keeps you safe on the road. It's so easy to use! Simply pull BattleVisor™ down to see the entire picture in crystal clear, high definition. From dawn till dusk, the sun won't distract you from focusing on what's important – the safety of you and others.
The secret: BattleVisor™ uses Atomic Clarification Technology that blocks blue rays and cuts harsh glare so you can safely see everything on the road ahead. See clearly without worrying about the sun. Use BattleVisor™ and things you couldn't see are suddenly visible. It can be the difference between life and death.
BattleVisor™ works on all vehicles, big or small. And it installs in a second. There's no tools and no fuss – just perfect vision every time you hit the road. Confidently purchase knowing BattleVisor™ by Atomic Beam® is built atomic tough to last for years.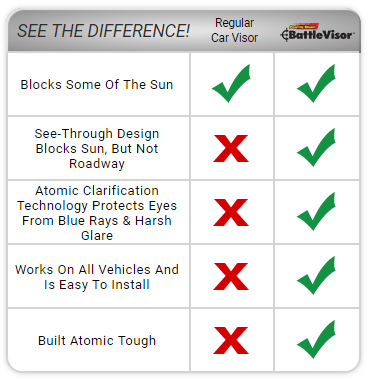 ---
FAQ
WHAT VEHICLES DOES BATTLEVISOR™ FIT?
BattleVisor™ by Atomic Beam® fits all vehicle visors, big or small.
DO I KEEP MY VISOR UP OR DOWN WHEN I USE THIS?
Keep your existing car sun visor up, so it's flush with your roof. Then you pull BattleVisor™ down to block the sun.
HOW DO I PUT BATTLEVISOR ON MY VISOR?
Simply slide BattleVisor™ over the edge of your sun visor. That's it! There's no tools or assembly required.
WHAT IS THE SUNSPOT BLOCKER™ FOR?
Sometimes the sun happens to get into our direct line of vision while driving and you need a little extra protection against it. Sun Spot Blocker™ allows you to add an additional layer of protection to BattleVisor™, strengthening your arsenal against debilitating sun glare.