No Need To Remove Screens:
Clean the windows and screens at the same time. Our pressure washer concentrate allows you to rejuvenate the look of your windows without having to remove the screen which saves your time and effort. Convenient and effective cleaning!
No Ladders Needed:
Clean those hard-to-reach second-story glass windows conveniently. With water pressure, the spray-on window cleaner reaches up to 27 feet. The outdoor window cleaners attach to almost every garden hose for added convenience.
No Scrubbing:
No more scrubbing windows for hours, the high-pressure spray efficiently removes the dirt and stains leaving a streak-free and spot-free finish. Simply spray, rinse and you are done. You just need to wet down the surface, spray the cleaner and rinse after one minute.
---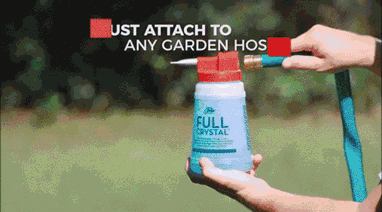 Cleans Screens & Windows at the Same Time. A Clean so Clear your Glass will Disappear! Avoid fake listing from china that only sell the fuller bottle without cleaning packets.
Cleans up to 20 windows.
Attaches to any garden hose.
Reaches up to 27 feet.
Harmless to grass, plants & shrubs.
Package Includes:
1 Bottle
1 Lid with Sprayer
Full Crystal Cleaning Powder
4oz (.25 lb) .11kg
We also have Fuller Brush Full Crystal Exterior Cleaner
Click here