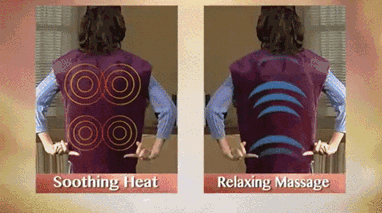 Product Description
animation-Therma pulse Relief Wrap combines soothing relief of heat and massage in a cozy, plush wrap. Relief Wrap is extra-long so it covers your entire back.
Relief Wrap is the neck, shoulder and back heat wrap that soothes away tension and helps ease achy muscles and joints. The Relief Wrap unique design is shaped to perfectly target the neck, back and shoulder areas. The contoured fit gets to those hard-to-reach areas! The large wrap, with lightly weighted edges and a magnetic clasp, ensures full coverage and a snug custom fit that stays in place.
Relief Wrap combines innovative heat therapy with luxurious micro-plush fabric to surround you with warmth and soothing comfort to melt away tension! You can unwind and get spa-like relaxation right in the comfort of your own home! The 2 heat settings and 4 massage levels let you customize your therapy based on the level of intensity you need to start feeling better!
Simply turn on Relief Wrap to your desired setting and receive a relaxing therapeutic heat massage directly to the area of stress and strain for maximum relief!
The Relief Wrap 9 ft. long cord and digital LED controller allows the freedom of movement so you can sit or lay down and use it anywhere. Perfect for home or office. The 2-hour Auto-off feature lets you rest assured you can leave it on as you rest and relax.
Heat therapy increases blood flow to the sore areas of your body causing muscles to relax and healing to happen faster. It helps loosen muscles, soothe achy joints, reduce swelling, stimulate blood flow and work away stiffness and tension.