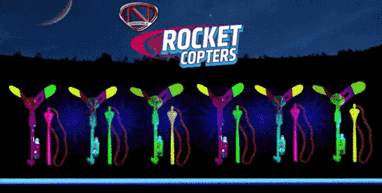 Product Description
animationRocket Copters the super bright, light up the night radical helicopters you can launch up to 120 feet. They are insane, night time fun. Just hook it to the launch band and rocket your copter high into the sky. Watch the light show come alive with high intensity LED lights that can be seen up to half a mile away.
Perfect for camping, the beach, picnics, backyard. As seen on TV Rocket Copters launch like rockets and fly like helicopters, producing a dazzling spinning light show with ultra-bright LED lights that are visible night or day. These durable copters feature a high impact, shock proof frame with lightweight wings. Great outdoor fun for the entire family.
9-piece set includes 6 copters and 3 launchers. Batteries included. 11″ x 0.5″ x 6″.
---