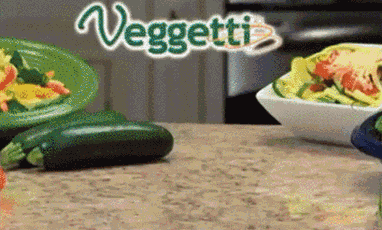 Product Description
animationVeggetti turns veggies into healthy spaghetti! Veggetti, as seen on TV, is the fast, easy way to turn veggies into delicious spaghetti in seconds! Zucchini and squash are healthier than traditional pasta and have a delicious taste and perfect texture when sliced in the Veggetti!
The Veggetti as allows you to cut thin spaghetti size or thick fettuccini size zucchini noodles. The secret is the 12 ultra-sharp stainless steel blades that effortlessly slice through vegetables for endless pasta strips. Veggetti works on any food that is two and a half inches or smaller in diameter. The most popular foods are zucchini, squash, carrots, and potatoes.
Veggetti is dishwasher safe, does not require batteries, it is manually operated and the Veggetti is reusable. The ergonomic grip makes it easy to hold and it is dishwasher safe.
Make perfect delicious pasta without the carbs with Veggetti.
---