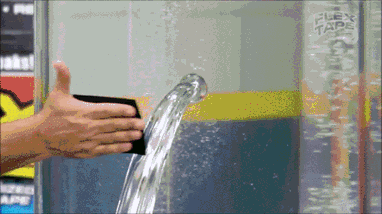 Product Description
animationFlex Tape is a super-strong, rubberized, waterproof tape that can patch, bond, seal and repair virtually everything. It stops leaks instantly. Flex Tape as seen on TV is specially formulated with a thick, flexible, rubberized backing that conforms to any shape or object. It grips on tight and bonds instantly creating a super strong waterproof seal. So strong it even works underwater. Triple thick adhesive virtually welds itself to most surfaces.
Flex Tape seals out water, air, and moisture to create a super-strong, flexible, watertight barrier. It is UV resistant, environmentally friendly VOC-free and has a wide temperature range so it can be used in extreme weather conditions.
Great for roof leaks, gutter, downspouts, boats, canoes, outdoor and camping gear, PVC and plumbing pipes, pools, spas, ducts, DIY projects and so much more. Use on PVC, acrylic, metal, steel, copper, aluminum, ceramic, glass, rubber, fiberglass, dry wall, cement and so much more. One 5′ roll.
---