Product Description
animationFlex Glue is a powerful adhesive that can bond, seal, and repair virtually everything! Flex Glue is easy to use, super strong, rubberized, waterproof adhesive with INSTANT GRAB. INSTANT GRAB works like a magnet, locks into place and holds on tight. It can be applied to wet or dry surfaces, even underwater!
Flex Glue is mildew and UV resistant. It can be applied to vertical or overhead surfaces and it's even paintable.
Flex Glue cures in 24-48 hours and reaches maximum strength in 7 days. No need for screws or nails, it's perfect for all types of repairs! Now any project big or small, you can do them all!
Flex Glue's super thick adhesive clings to the surface and can be used on dry or wet surfaces – even underwater.
It is solvent-free, VOC compliant, low odor and will not shrink or crack.
Won't run or drip and can be easily applied to vertical and overhead surfaces.
Excellent for home & garden, automotive & marine, boats, RV's, trailers, maintenance Repairs, construction, plumbing & electrical, DIY projects & hobbies & so much more!
Works on metals, wood, foam, rubber, tile, ceramic, porcelain, glass, granite, granite, brick, concrete, stucco, plaster, stone, masonry, drywall, fiberglass, PVC and so much more.
Flex Glue Pro Formula has even more INSTANT GRAB! Formulated for heavier materials, comes in 10 oz cartridge for easier dispensing method on those big projects. Standard caulking gun required (not included).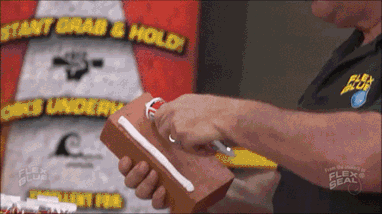 ---