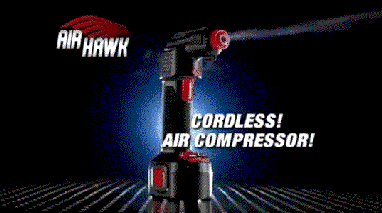 Product Description
animationAir Hawk is the new way to inflate tires, sporting equipment, and more!
Air Hawk is a cordless, handheld air compressor that pulls in outside air and compresses it into the tire. It's fast, easy to use, and extremely convenient. No more driving to the gas station or pulling out a large air compressor just to fill your tires.
Air Hawk features a built-in digital pressure gauge, and you can set it to automatically turn off once the desired pressure is reached.
Set includes 3 nozzles; one for car and bike tires, one for sports equipment and inflatable balls, and one for everything else such as pool floats, air mattresses, and more.
6″ Air Hose
AC Adapter
Lithium Ion rechargeable battery
12V Car Adapter
Carrying Case

---